[Trans – Interview] MYNAME "The Stage Is Our Playground. We Want To Succeed In Both Korea And Japan"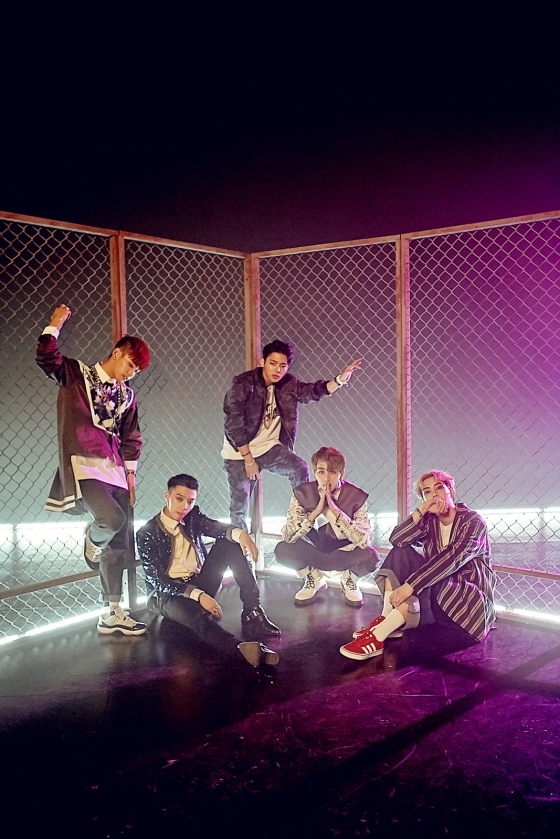 #. When Chaejin was in year 1 of high school, his tears flowed as soon as their Japan-bound plane took off. Missing his parents and home, he cried every night. For fear of being caught crying in the day time by the others, he opens the refrigerator door and cries into it. He couldn't even be comforted by the older ones. Now, 5 years have since passed.
"Now, I gain weight every time I go to Japan. It's now my second hometown. Haha."
Chaejin's smile was relaxed.
MYNAME(Chaejin·20, Gunwoo·26, Seyong·24, Insoo·27, JunQ·22) is back. They released 'MYNAME 4th Single Album [Just Tell Me]' on the 13th at noon.

This album consists of 5 songs including the title track "Just Tell Me", "Get Ready", "I Love You My Girl", "OOPARTS" and "I Can't Seem To Sleep Well".
We met MYNAME ahead of their comeback.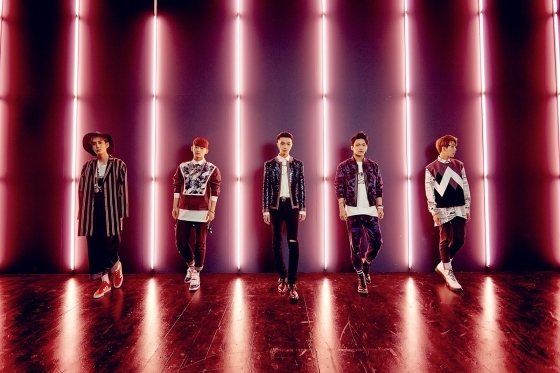 Just like a group that has been around for 5 years, MYNAME were relaxed. It could have been because they have already started promoting their song on various terrestrial music programs like Inkigayo ahead of the album release, MYNAME seemed upbeat. Insoo said while smiling, "We really wanted to do interviews before we made our comeback, but it feels good to be greeting our fans through this interview now."
Gunwoo added, "We transformed into a bright image previously with 'Too Very So Much' and the reactions were good. We plan to keep up with this atmosphere." "Previously, we had a playful rascal image, but we want to show off our more masculine side this time," added JunQ.
MYNAME has a song for their fans in every album, and this time was no different with 'I Love You My Girl'. "Mygirl" is their fanclub name.
"The original title was 'Highlight'. It's just like the lyrics. Then we decided to directly thank the fans so we added "my girl" to the title (laughs). (Insoo)"
The degree of completion on this album is high. You can feel what MYNAME wants to say and the mood they want to portray. But it's MYNAME's story to tell about how it took such a short time to create this album.
"We initially did not have any plans for an album. But the response for 'Too Very So Much' was really good, so people kept telling us to quickly put out another album. We made it in such a short time. It took us half a month. It has a similar feel as 'Too Very So Much', and was written by the same producers Kim Gunwoo and 220volt. It felt like this was all prepared beforehand (laughs). (Gunwoo)"
The competition in May is fierce. Big Bang and BTS are promoting their respective albums, and SHINee is slated to make a comeback on the 18th.
"We don't pay much attention to that. We don't think about which group will win (JunQ)", "Honestly, we used to take note of which teams are promoting. But now, we only think about ourselves. Our only competitor is ourselves. BTS is doing really well. We want to congratulate them for gaining that kind of success despite making their debut later than us. Putting the competition aside, to see a hardworking team do well is something to congratulate. (Insoo)"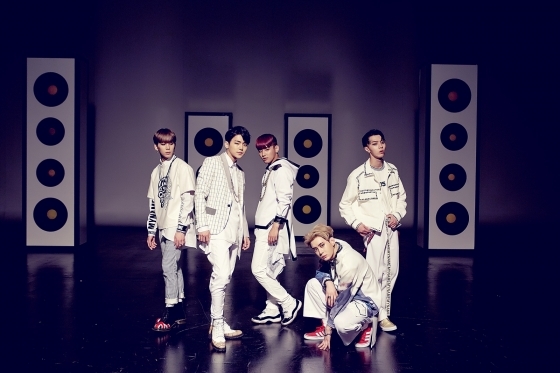 MYNAME has been flying back and forth between Korea and Japan to promote since their debut. They made their debut on October 27th 2011, and started promoting in Japan in March 2013.
Even this time, they held a concert and handshake event in Japan, and flew back to Korea immediately the next day to perform 'Just Tell Me' for the first time. From the time they were rookies, Japan was another stage for them. The results were good too. Apart from getting #1 on the Oricon daily charts, they made it to #1 on the weekly charts as well.
MYNAME lives in Japan without any of their Korean label's managers.
"Just the number of concerts we did in Japan alone is amazing. Of course not everything is always rosy among the members (laughs). Of course there were conflicts. There's a lot that we want to do individually, and there were a lot of restrictions. Since we're guys, we solve our problems while drinking because there are things the older ones can't usually say, and there are things the younger ones can't usually say.(Insoo)"
"We got used to living together. Our dorm in Japan is big. It's a 3-storey house. After our schedules, we gather and talk about our concert, albums or any other things. We even talk about the people we don't like. Haha.(Gunwoo)"
When we asked them if they have made it in Japan, Gunwoo responded, "I think we have succeeded to a certain extend. But it's time for us to go up another notch." Insoo said, "Whether this is a seat of money, of gold, or of thorns, that's something we have to decide for ourselves. Our Japanese fans also want us to promote more in Korea. The Japanese fans also like our Korean promotions. Getting #1 in Korea this year is our goal."
Achieving #1 on the Oricon daily and weekly charts was not a matter of luck. MYNAME puts in their all for their Japanese promotions. They hold their 2~2.5 hour concerts completely in Japanese. They also do Japanese interviews without a translator. They've even done 14 interviews in a single day.
"They do a lot of magazine interviews in Japan. Our daily lives are captured in many photos. There was a time we had to eat lots of watermelon (laughs). (Insoo)", "We even had a photoshoot in a bath house. Haha(Gunwoo)."
Making their debut in 2011, it's their 5th year since and this year will be different. "We want to be on stage more" is a wish of theirs. Insoo said, "We only get 3 or 4 minutes on stage for music programs, but we are focusing on how natural we are on stage. We started being natural with 'Too Very So Much'. We don't pay attention to group choreography any more."
"We want to be singers the public can relate to. Of course we know that it's not an easy thing to do. It's like our assignment. We are always working on solving that assignment. Comparing ourselves to clocks, we want to be a wind-up clock rather than one that works on batteries. (Insoo)"
"We used to always do as we're told. If our manager tells us to do this, we do it, do that and we'll do it. It was a time of nerves for us. But now, we know exactly what we have to do. We also know what to do on stage to stand out individually, so we are more relaxed on stage.(Chaejin)"
"Chaejin talked about being relaxed, but I think that's only because we started to have our own responsibilities. We know what we have to do and why. Last time, we would do everything as long as they tell us to. We speak our minds now and talk about ourselves. That's why we're more relaxed.(Gunwoo)"
"We used to think that being a team means to always be together as one, but we now know how the 5 of us can look good together while having individual styles.(Seyong)"
"We used to do group choreography on stage. We changed our style from 'Too Very So Much' and we each discovered what we want to do. It shows on TV that we're having fun on stage. The fans seem to like this more as well. I want to show more of this image in our future promotions too. (JunQ)"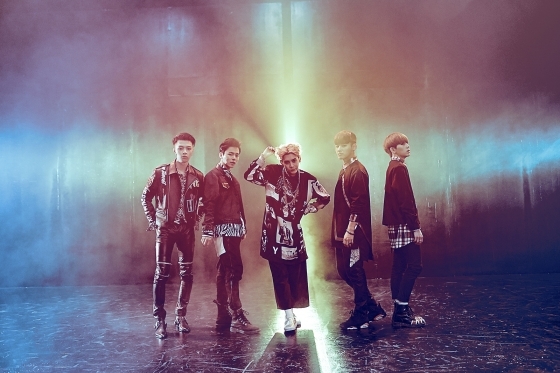 MYNAME released their album on the 13th and will be promoting in Korea till the end of May. They will be going on tour in Japan with 3 shows in Tokyo and one in Osaka in June.
"Our concert in Tokyo is… not in Tokyo Dome but at the City Hall near it. We want to stand on the Tokyo Dome stage someday (laughs).(Gunwoo)"
"This happiness is not just ours, but we hope that anyone who sees us will be happy too. There will be people who read this interview and say "What did they say?" but this is MYNAME. Please be happy always!(MYNAME)"
JunQ, who barely spoke during the interview ended off by saying, "There is something I really have to say. I'm a huge fan of Kim Yerim. I really wanted to say that." MYNAME is truly delightful!
Source: Star News
Translation: MYNAMESG
Please take out with FULL CREDITS~